The stunning Sapphire Coast offers a wide variety of accommodation options from luxury glamping tents in national parks to unique holiday stays on the coast. Whether you seek a festival escape with your lover, or a gathering of friends or your family, there is something for every kind of traveller. This is a special place where you can indulge in fresh local oysters, listen to the local wildlife at sunset or wake to the sound of waves crashing.
Here is a full list of local accommodation options and below are a few of our favourite finds!
Coast Resort Merimbula
Home-sized apartments and townhouses within a luxury resort setting. A coastal oasis just seconds from pristine ocean beaches and tranquil inland waterways. Set on a two hectare site stretching from Merimbula Lake to Merimbula Beach.
Hillcrest Merimbula
Positioned at the top of Merimbula with glorious coastal views, the newly-renovated Hillcrest Merimbula, an original 1969 motel, is one of the cool new kids on the block, oozing in retro glory. Stroll through the lush gardens and lounge by the hillside pool, before sipping a wine by the fire pit at sunset.
Merimbula Holiday Rentals
A range of holiday apartments and houses managed by locals. Offering a diverse holiday accommodation selection, tailored to your ideal getaway and designed to suit any budget.
Albacore
A 4.5 star fully self-contained accommodation, with well designed one and two bedroom apartments, all with magnificent panoramic water views. Large open planned living areas extend to private balconies where you can sit and watch the world go by, with sweeping views across Merimbula Lake.
Woodbine Eco Cabins
Located inside the Bournda National Park, Woodbine Park Eco Cabins are surrounded by pristine ocean beaches and eucalypt forests. This accommodation is walking distance to the festival and walking distance to a secluded National Park beach.
All cabins at Woodbine Park are self-contained and  heated with a cast iron wood-burning stove. A 5-minute drive from Merimbula town centre and 15 minutes' walk to the beautifully unspoilt North Tura Beach.
Tathra Hotel
Heritage-listed Tathra Hotel has been a welcome meeting place for more than 100 years. It's always been a place for visitors and locals to relax, enjoy a good meal and soak up Tathra's laid-back coastal charm. Enjoy a delicious meal at the stylish restaurant downstairs, as well as tasty brews from their in-house Humpback Brewery.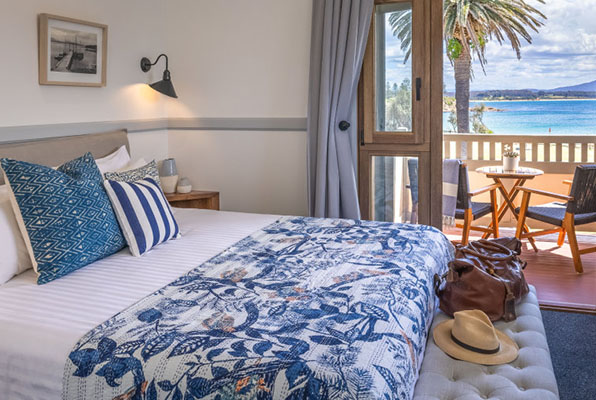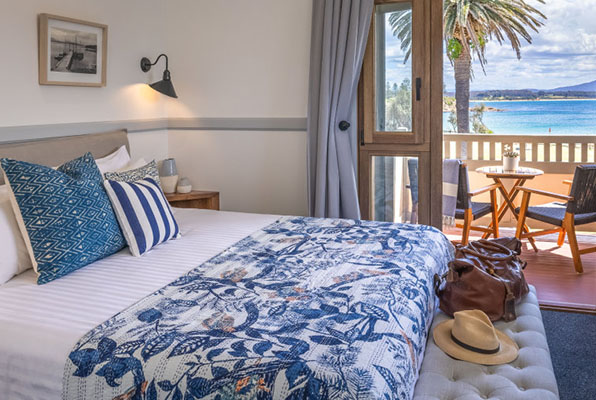 Tanja Lagoon Camp
A bit further afield is this tranquil oasis for your pre or post festival retreat! Hidden in the spotted gum forests of Mimosa Rocks National Park, this glamping experience provides the ultimate fusion of nature and comfort. With its own private walking trail to the nearby beach and fleet of kayaks and canoes, reconnecting with nature is easy.
Bermagui Beach Hotel
Another great beach town to explore outside your festival weekend. Wake up to some of the best ocean vistas on the Sapphire Coast at Bermagui Beach Hotel, located practically on the shores of spectacular Horseshoe Bay in Bermagui. A short stroll to beaches, cafes and hidden gems, including the Blue Pool.
Campsites
There are a swathe of incredible places to pitch your tent, park your caravan or stay in a cabin before, during or after the festival!
The much-loved Hobart Beach Campground in Bournda National Park is close to the festival. The peacefully idyllic Wallagoot Lake is ideal for little ones to swim in, while the northern shores are excellent for sailing and paddling.
The award winning NRMA Merimbula Beach Holiday Resort at Short Point boasts spectacular oceans views. Stay in a comfortable cabin or villa, relax in a fully equipped glamping Safari Tent or enjoy the great outdoors on a caravan site or camping site.
Discovery Parks – Pambula Beach offers absolute beachfront accommodation. Tucked into the northern tip of the rugged Ben Boyd National Park on the NSW Sapphire Coast, their caravan park is on the doorstep of a nature lover's paradise.
A bit further afield, we have Tathra Beachside, Big 4 Tathra Beach Holiday Park & Tathra Beach Eco Camp. Tathra Beachside boasts over 550 metres of absolute, direct beach frontage. Offering a diverse range of accommodation from luxury beach houses to beachfront glamping tents, villas, surf shacks, caravan sites. BIG4 Tathra Beach Holiday Park is located directly opposite Tathra's surfing beach. Tathra Beach Eco Camp offers large open green spaces, dedicated nature areas (like a kitchen garden & chicken run) and plenty of accommodation options.
A few other great affordable accommodation options close to the festival include Robyns Nest, Beach Cabins, Merimbula Lake Apartments and Seashells Merimbula.
Visit Sapphire Coast to view more accommodation on offer in the region. There is truly something for everyone!